Buy Arduino UNO R3 CH340 Board in Sri Lanka Arduino UNO R3 CH340 BoardThe UNO is a microcontroller board based on the ATmega328P. It has 14 digital input / output pins (6 of which can be used as PWM outputs), 6 analog inputs, a 16 MHZ quartz crystal, a USB connection,
a power jack, an ICSP header and a reset button. It contains everything needed to support the microcontroller, simply connect it to a computer with the supplied USB cable or power it with an AC to DC adapter or battery power to get started.
This is the CH340 version UNO board.
The Uno R3 with the CH340 USB Chipset is an Uno compatible version of the latest R3 iteration of the Arduino Uno, which is the most popular of the many development boards available for hobbyists. It uses an SMD version of the microprocessor rather than the older style DIP package used on the original product and has some additional features.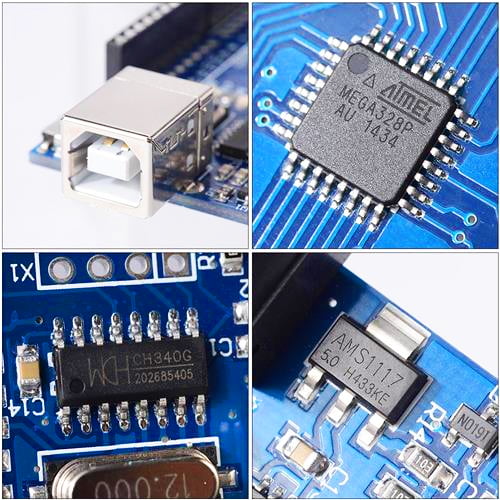 The Uno R3 Ch340 operates at 5V which can be supplied via an external power supply or through the USB port connection. The power source is selected automatically if both are available. If an external supply is used, it is recommended to use a supply between 7-12V. Higher input voltages will cause the on-board regulator to work harder and may cause it to overheat.
A great feature on this version of the board is that besides the standard female headers for bringing out I/O, each female header also has a row of holes next to it to which can be soldered male headers, a second row of female headers or even wires. These can be soldered to either the top or bottom side of the board.
The board comes with a strip of male headers which are normally soldered to the top side of the board as shown in one of the pictures. If the male headers are soldered to the bottom of the board,
the board can't be mounted directly into a breadboard since the separate sections of headers on one side are not spaced apart on 0.1″ centers and the holes are offset somewhat side-to-side.
The board also has an array of solder points which gives another place to access I2C (SCL/SDA), Serial (TX/RC), 3.3V, 5V and GND which can come in handy.
Like all Arduino compatible boards, it can be programmed using the Arduino IDE via the USB port.
The original Uno design which we also sell (Arduino UNO R3 – Original) uses a DIP processor placed in a socket. The benefit to that design is that it is easy to replace the processor should the chip become damaged. The downside is that the DIP part is becoming harder to find and the assemblies cost more than the SMD version.
Specifications:
Microcontroller: ATmega328P

CH340

Operating Voltage: 5V

Input Voltage (recommended): 7-12V

Digital I/O Pins: 14 (of which 6 provide PWM output)

PWM Digital I/O Pins: 6

Analog Input Pins: 6

DC Current Per I/O Pin: 20mA

DC Current for 3.3V Pin: 50mA

Flash Memory: 32KB (ATmega328P) of which 0.5KB used by bootloader

SRAM: 2K (ATmega328P)

EEPROM: 1KB (ATmega328P)

Clock Speed: 16 MHz

LED Built-in: 13

Length: 68.6mm

Width: 53.4mm

Weight: 25g
Resources
Shipping List
1 x UNO R3 Compatible with Arduino® – CH340 Chipset
1 x SIL 40 Pin Male Header
Related keywords: buy Arduino UNO R3 CH340 Board arduino uno board price in sri lanka, arduino uno r3 ch340g driver, arduino uno r3 ch340g tutorial, arduino uno r3 ch340g vs original, arduino uno r3 ch340g pin diagram, arduino uno clone price in sri lanka, arduino uno r3 ch340g specifications, where to buy arduino uno board in sri lanka, arduino starter kit price in sri lanka, arduino nano price in sri lanka, arduino online store sri lanka, arduino shop sri lanka.